The short-circuit proof multi-outlet extension device series
The pentagon-shaped device for work efficiency, the pipe-frame type for outlet protection. Stainless steel outlets have long service lives.


RAILMAN has developed the first stainless steel outlets in the industry. Service life is much longer than conventional devices, and lines are swaged with built-in terminals for easier maintenance and repairs. Stainless steel keeps screws from corroding and the entire device is extremely durable.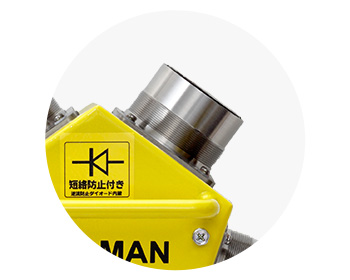 Prevents short-circuit accidents on rails that occur when equipment touches the rails between earths. A built-in element prevents countercurrents to protect railway maintenance equipment from short-circuiting.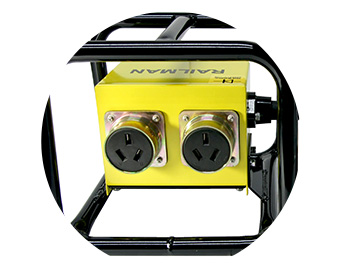 Powerful protection of outlets from ballast.
By protecting the screws of outlets, which typically suffer severe damage, there is less need for outlet repair and replacement, resulting in dramatically lower running costs. The pipe frame also keeps the outlet box off the ground, keeping water out during inclement weather.


| | |
| --- | --- |
| Model | TT4P |
| Outlets | 4 |
| Cable length | 3 meters |
| Rated current | 15A |
| Rated voltage | 3-phase electric power 200-220V |
| IP Code | IP 20 compliant |
| Ambient temperature | -30℃ to 40℃ |
| Relevant standard | JIS8282-1:2010 |
| Use environments | Indoors and outdoors |
| Weight | 2.6 kg |

Model
TT4S
TT2S
TT2S100
Power outlets
4
2
2
Cable length
3m
3m
100m
Rated current
15A
Rated voltage
3-phase electric power 200-220V
IP Code
IP 20 compliant
Ambient temperature
-30℃ to 40℃
Relevant standard
JIS8282-1:2010
Use environment
Indoors and outdoors